"The way to the better lives we seek is to give our economy the boost it needs by making, buying and exporting locally created products and services." – Designer Deola Sagoe
By Kemi Mobuse - Monday, April 23, 2018
African designers are having a very good year. In just a matter of months designers like Duro Olowu, Mataano and Mimi Plange are pushing their way to the forefront landing in big magazines and on even bigger stars. Chief among them are

Deola Sagoe

, the Nigerian born beauty is making a splash in her homeland and abroad with chic pieces which offer flu, femininity with all the authenticity of African fabrics and prints. Deola Sagoe was interviewed by leading Black Women's Magazine Essence.
Read Excerpt from the interview below.
You've become very well known among African fashion enthusiasts. How do you feel about that success?
Deola Sagoe: From the start, I always wanted to represent the African woman in terms anybody anywhere would describe as beautiful. I'm a Nigerian; I grew up with a lot of natural beauty around me, just here and there without pretension. I was amazed by the beauty of the women I grew up with and the way they embodied my culture. This is perhaps the ultimate success of my brand; in that, we have been able to give the African woman, and more widely the black woman, her own pedestal where she stands in all her beauty and is admired the world over.
After two decades of being in business, what defines my success is that, I fused my cultural heritage with an intrinsic sense of beauty and came up with designs that contributed to the fashion dialogue. My designs were chosen, they were recognized and have stood the test of time, lately we have been reaching an ever-wider audience and this itself is success...
As an African designer, you are always seen as a representative of that continent. Is that how you wish to be seen, or as a designer with her own unique worldview?
Deola Sagoe:

Every true designer I know has his or her own deeply held point of view. This is usually fashioned by their environment and concerns, but also from that uniqueness that comes from within you, and as such is not defined by geography or location. I'm black, I'm a Nigerian, and I'm a woman - guess it's no surprise that you're going to see that in my work no more than if I was Japanese or Dutch.
So you seek to strictly represent your homeland?
Deola Sagoe: I would like to think I represent an Africa that is still yet to be fully appreciated, an Africa that is not just one homogenous blob but a rich continent of diversity and expression. African cultures are so fluid by the way; it's a mixes of European, British, French, Portuguese from our colonial past and American coming in from modern day enterprise and international business. If there's a mixing pot somewhere on this Earth it's got to be Africa that's why things are often very rich here.
How does your Nigerian culture in particular inform your work as a designer?
Deola Sagoe: Nigeria is a nation often debated across the world but actually rarely truly investigated. Nigeria is a strong nation; the people are proud and culturally very rich and diverse. For me it's like a goldmine that I can delve into. I go in the mine and when I return to the light I discover that I have gems of every description, and I'm usually surprised! What I mean is, whenever I'm designing I'll start with some element of my culture and then I'll go on and add myself to it, what I'm feeling at the time, and then, by a miracle, things start to just happen. It's really the most wonderful thing to be a kind of conveyor or channel for something new to come into being, and yet you can feel its lineage. It has a link to history and culture. The Nigerian consciousness has yet to be fully explored but everyday it keeps offering up gems.
You've had the opportunity to show your collection at New York Fashion Week in the past, do you have plans to connect/expand more so into the U.S. market in the future?
Deola Sagoe: Every market interests me. A new market means I can get out my ideas further and receive new ideas too. That's the beauty of a global community. America is especially interesting because there is also a mixing of cultures where ideas fuse together and generally advancement occurs. In America you can make ideas of change happen because there are many schools of thought - the many body types and body shapes and different aesthetic points of view are all rubbing against each other and this creates energy. Where we are right now at Deola Sagoe is in the enviable position of being very good at what we do. We are very refined and distilled, from the fabrics we create to the techniques we use to make our garments... The U.S. market is always interested in something good and we kind of feel that right now 'we have the goodness' as it were... (Laughs)
Who is the Deola Sagoe woman?
Deola Sagoe:

The Deola Sagoe woman has the mysterious and engaging complexity that is a gift to all women. One day she is dead serious the next she has the naughtiest sense of humor. One day she is all woman the next she is a puzzle. She appreciates meaning in things though, she likes to know that she is part of something larger than just her self- hence her appreciation of our fabrics, which have history.
She definitely enjoys standing out, she is not a worker bee, but finds it far more interesting when everyone has a different point of view and yet everyone can still get along. She is colorful - she uses color to mirror her mood.
There's a debate going on about whether African designers should feel obligated to use African print in all of their collections. How do you feel about this and do you feel you have a duty to use African prints?
Deola Sagoe:

I've never been interested much in restrictions. 'I must be this way and you must be that way' - limiting. And frankly, we do not have the time to be overawed by limits. I use African fabrics but I often mix with many other fabrics. I would actually like to see other designers of the world take an interest in African fabrics. They don't appear to know that much about our fabrics as we have learned a lot about theirs. Also, it's bigger really than prints, which represent only one typology of fabric techniques, mark my words there are so many African fabrics, derived from ingenuitive materials, or made with special techniques... It's like I said before... a treasure trove.
2016 marks a new era for House of Deola (the brand was formerly known as 'Deola Sagoe') with the launch of its wedding collection – Komole Kandids Series 1! At its core it is classically Nigerian, with its use of local fabrics.
The Komole Kandids Series 1, in the Komole range for the House of Deola, presents an assemblage of designs for bridal wear drawing upon the mood and romance evoked by royalty and royal weddings through the ages.
I imagine a Komole bride. She is independent and in charge, but still demure and gentle like the current Duchess of Cambridge Kate Middleton… She honors everyone that looks at her with her way and that wow Komole creation! …She is the new light in all their lives!"
Over 12 years of research and development are ingrained into the Komole range (the original collection was launched in 2012), the result of which is a profoundly refreshing take on Aso-Oke and the look of the modern bride.
The Komole textile form addresses the same ideological desires that led to the development of lace in Europe in centuries past. Today lace has its parallel, in many ways it's usurper, in this House of Deola signature style of Aso-Oke fabric – a fabric at the heart of a nation's identity and consciousness.
There is no need anymore to have Aso-Oke and a Lace outfit as two answers to an occasion's fashion demands… we have combined both into one and by so doing transcended, making the new creation even better than the sum of its parts. The new fabric motifs and the fashions that we have formed them into elevate the wearer to princess level, while still keeping her culturally grounded – I believe that this is what true class and elegance is about, shining in the form of a glow rather than a tinselly shine" - Deola Ade Ojo
Here's the first series, with 10 designs.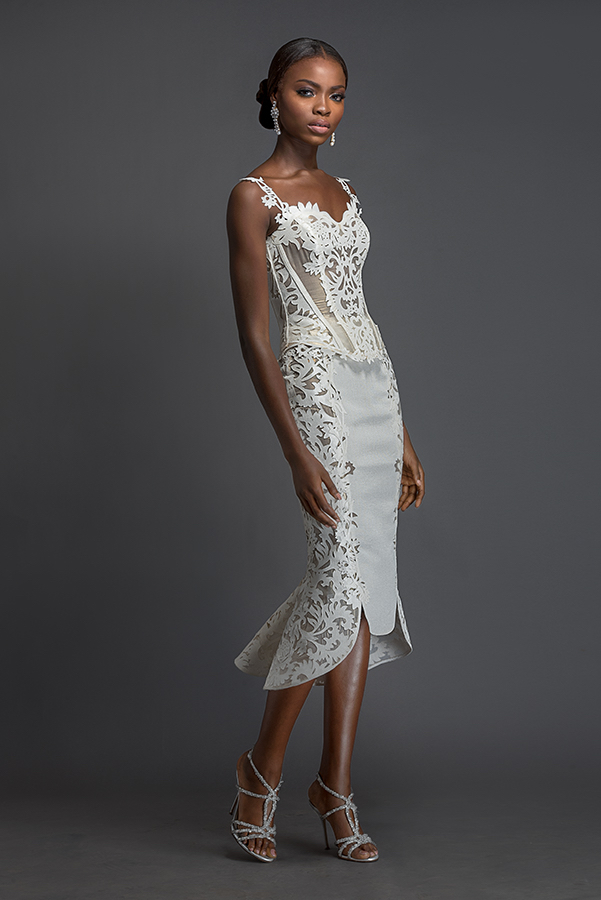 Liya – Ivory boned corset with diaphanous divides and Ivory "winged" skirt. Corset and skirt panelled with Komole Kandids Forest motif.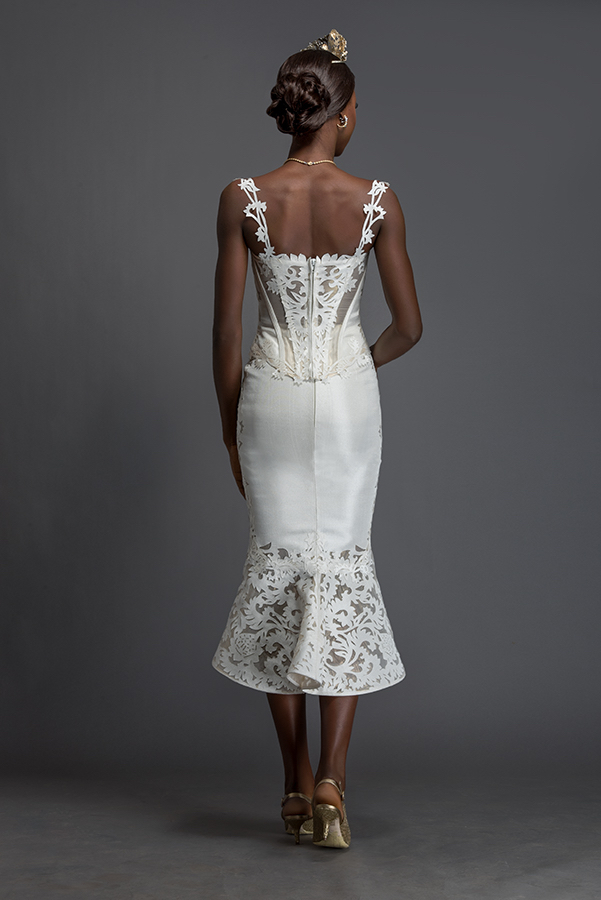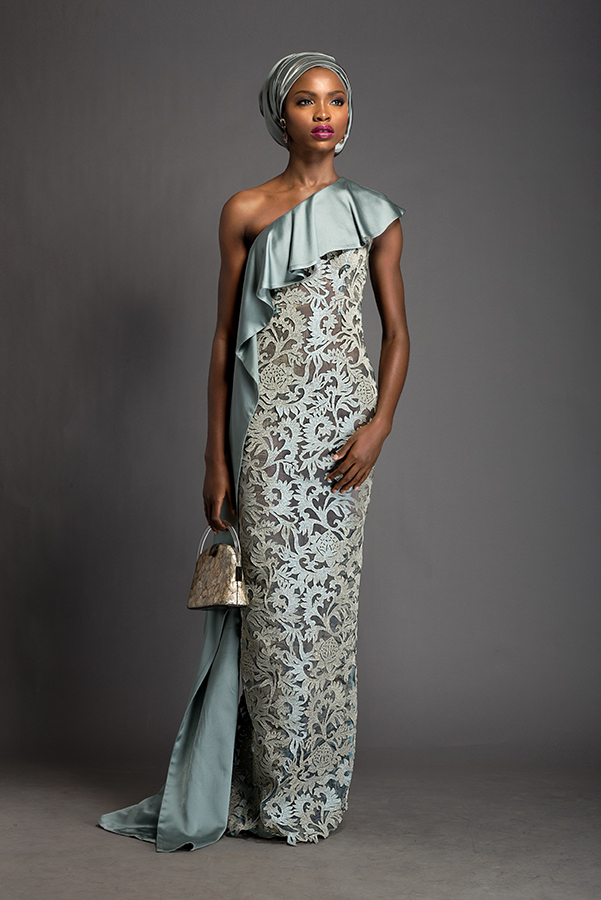 Imani – One shoulder celadon floor length dress with attached ruched 'ipele'.
Dress patterned with Komole Kandids Forest motif.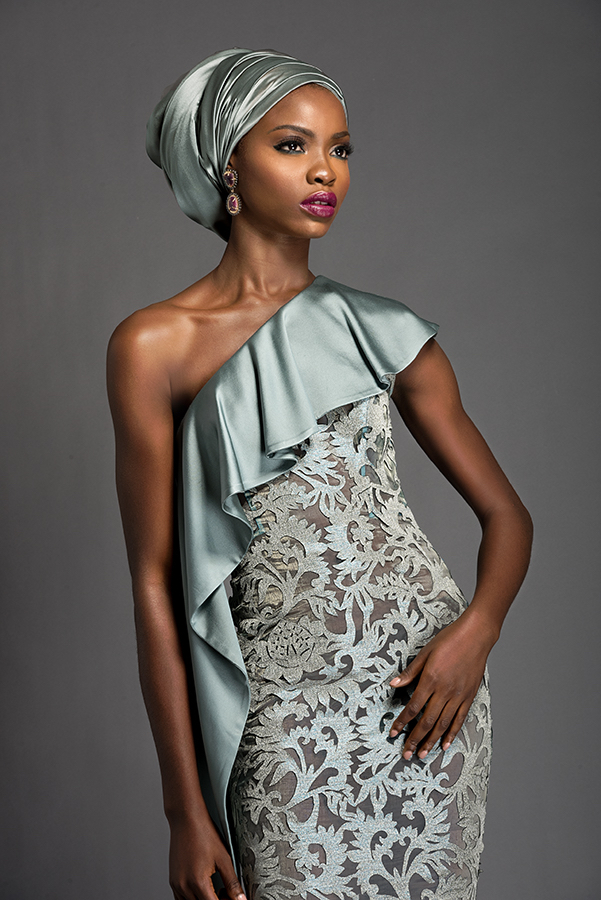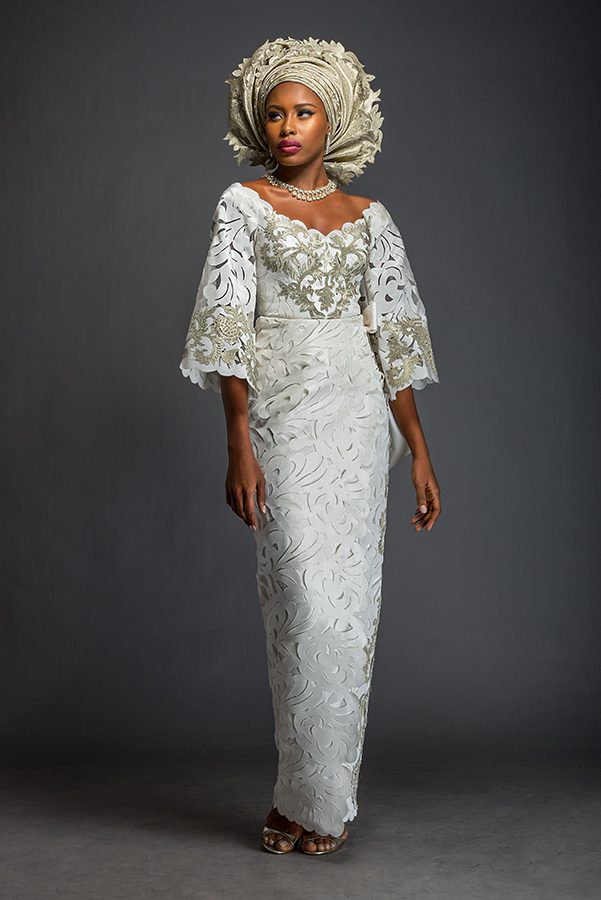 Adeola – Ivory and Brass gilded Iro and Buba.
Iro and Buba patterned with Komole Kandids Forest on Classic motif.
Gele edged with Komole Kandids Forest motif.
Iro and Buba is finished with signature Deola "cadeaux bow-back".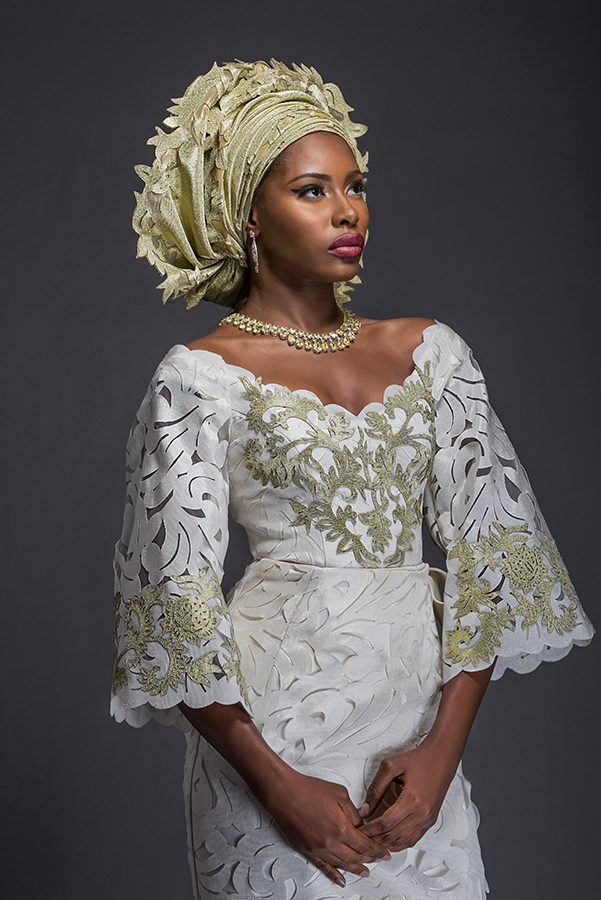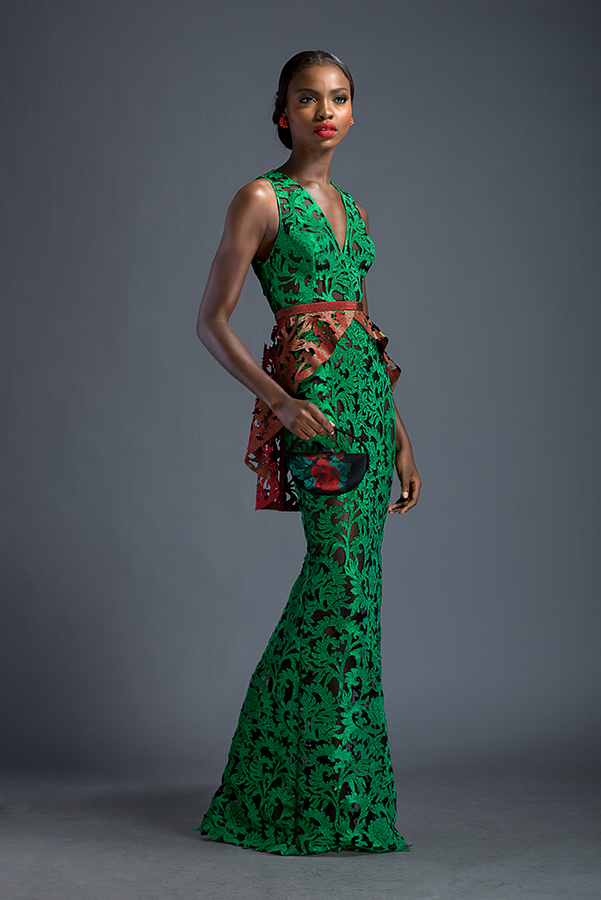 Salma – Emerald floor length dress with attached peplum belt frill.
Dress and belt frill patterned with Komole Kandids Forest motif.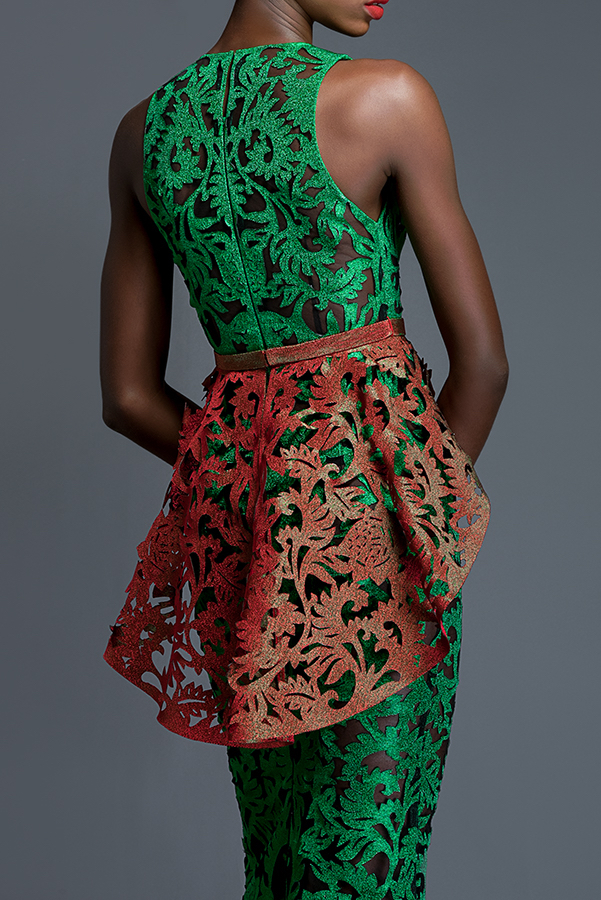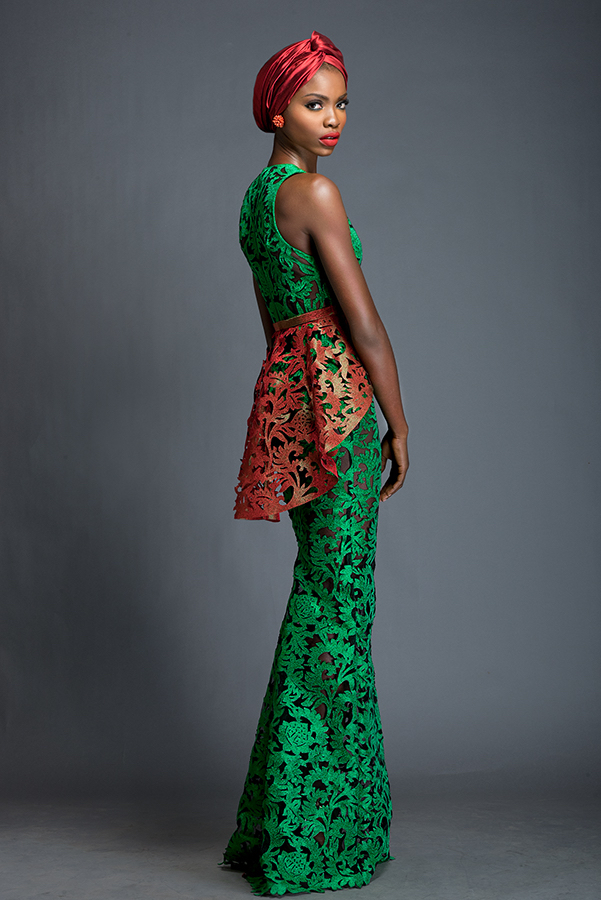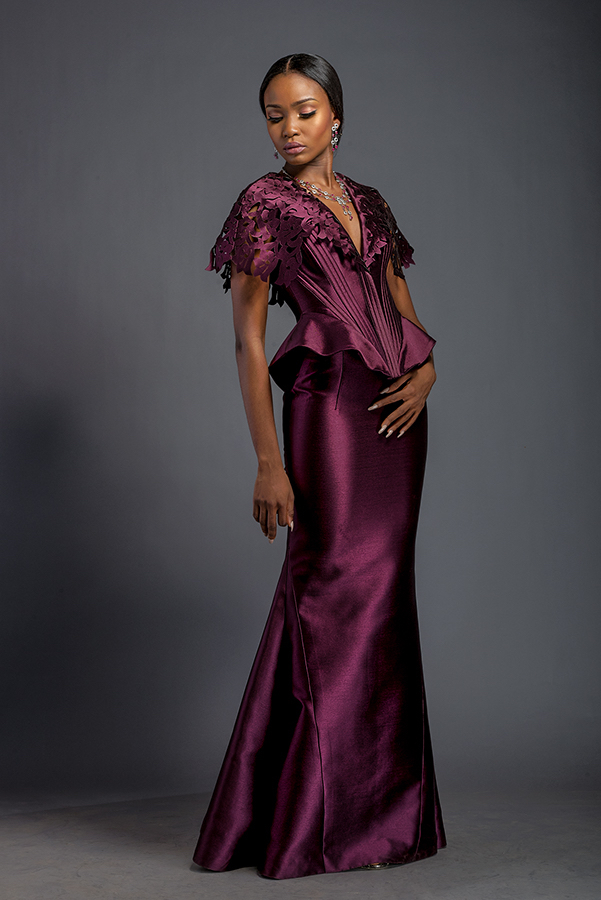 Alexandra – Plum ribbed corset with fringe fascia and floor length skirt.
Fringe fascia is patterned with Komole Kandids Azalea motif.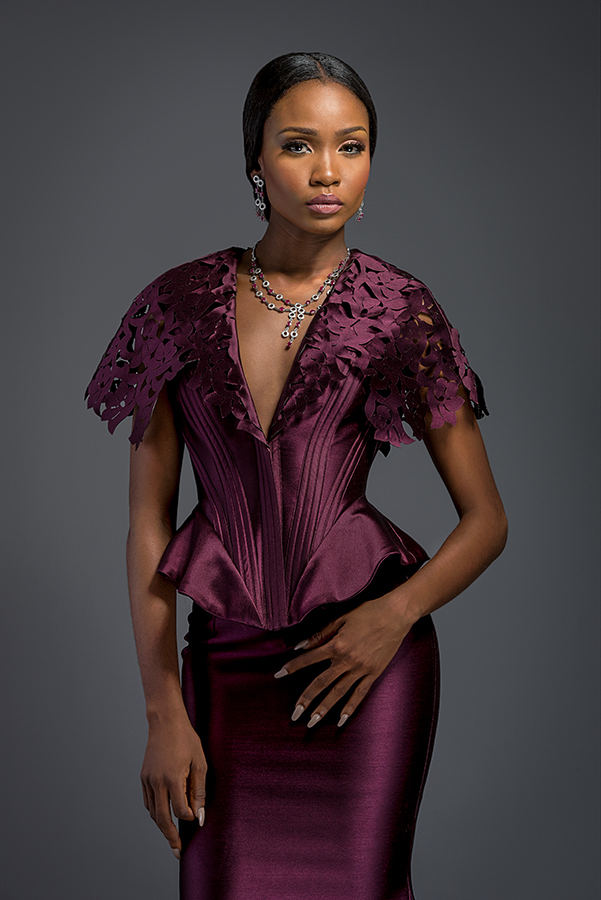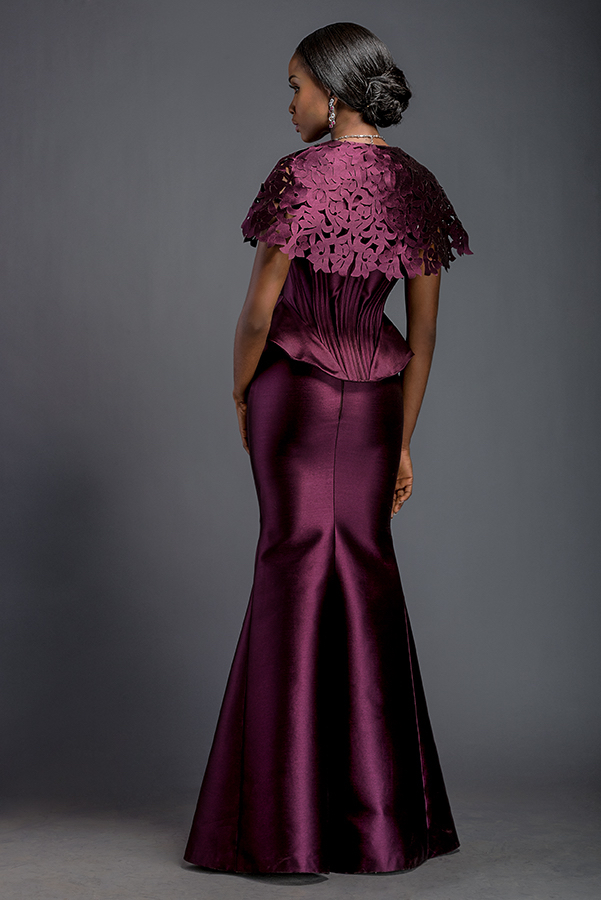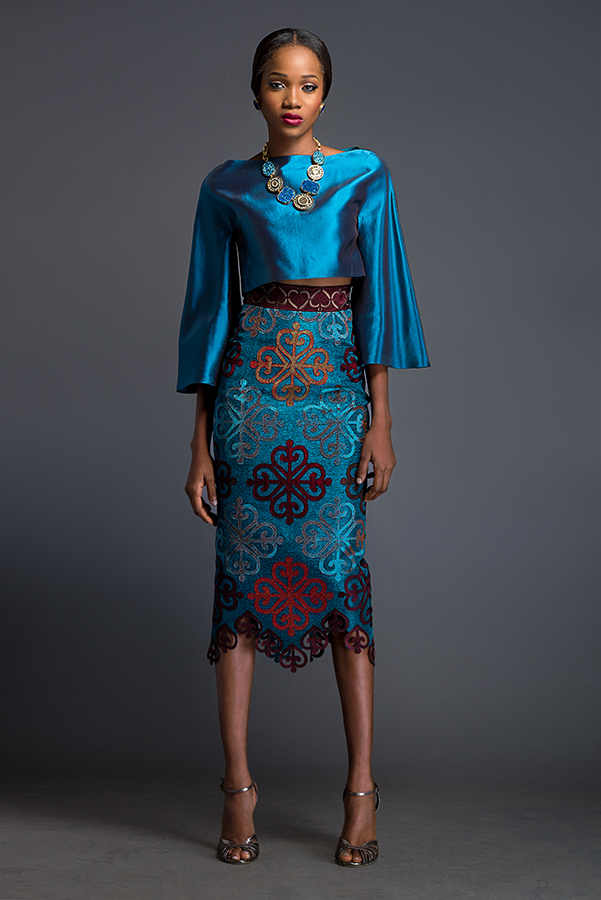 Maxima & Ines – Azure cropped 'Kimo-Buba' and Azure pencil skirt.
Skirt is patterned with Komole Kandids Clover motif.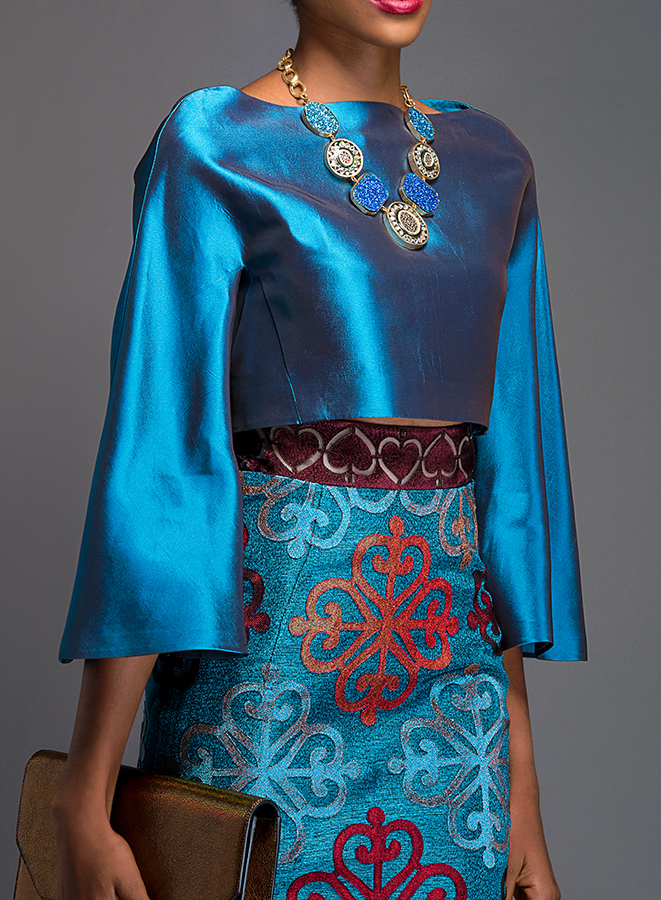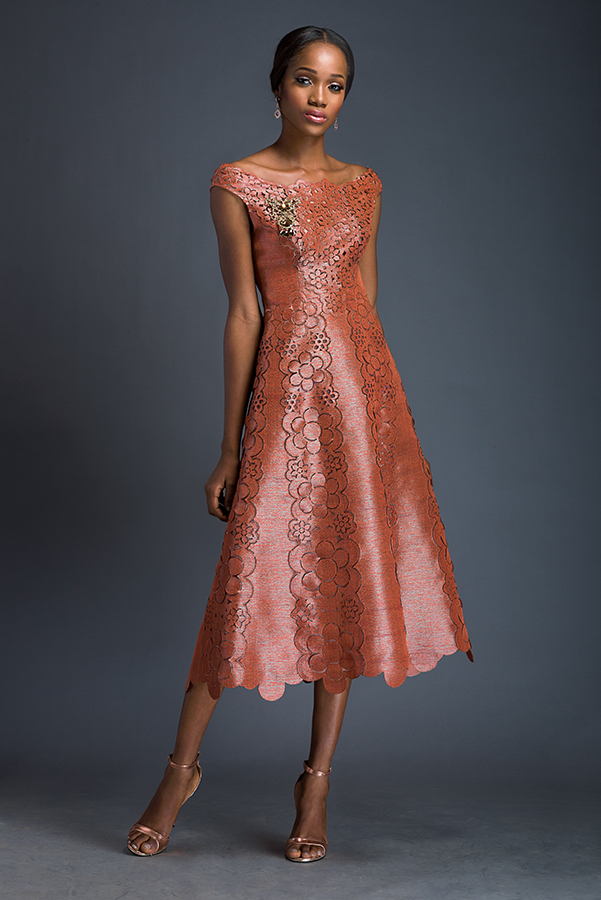 Eleanor – Coral A-line dress with soft shoulder straps.
Dress is patterned with Komole Kandids Daisy motif.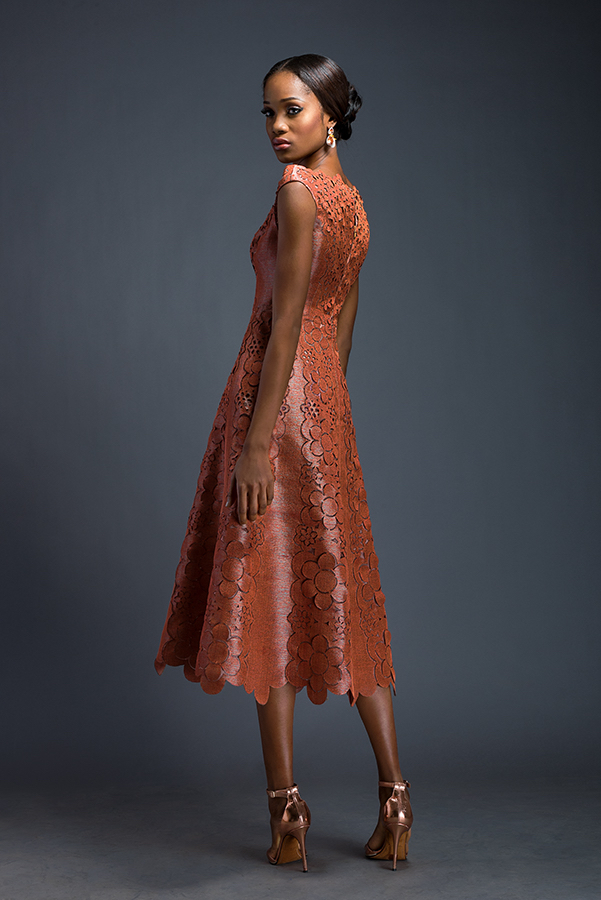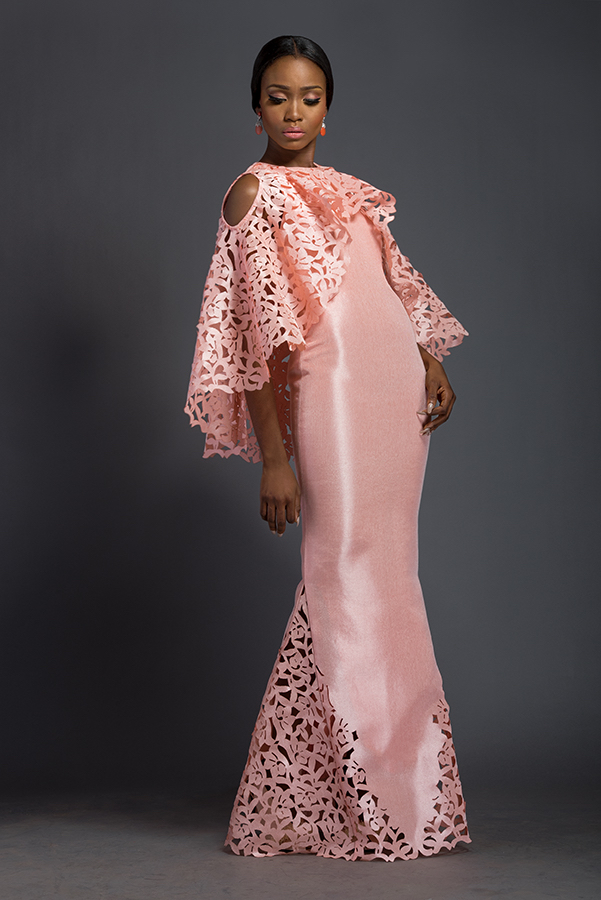 Elizabeth – Cherry blossom pink floor length dress with fringe fascia cape.
Fringe fascia cape is patterned with Komole Kandids Azalea motif, and skirt is panelled with Komole Kandids Azalea motif.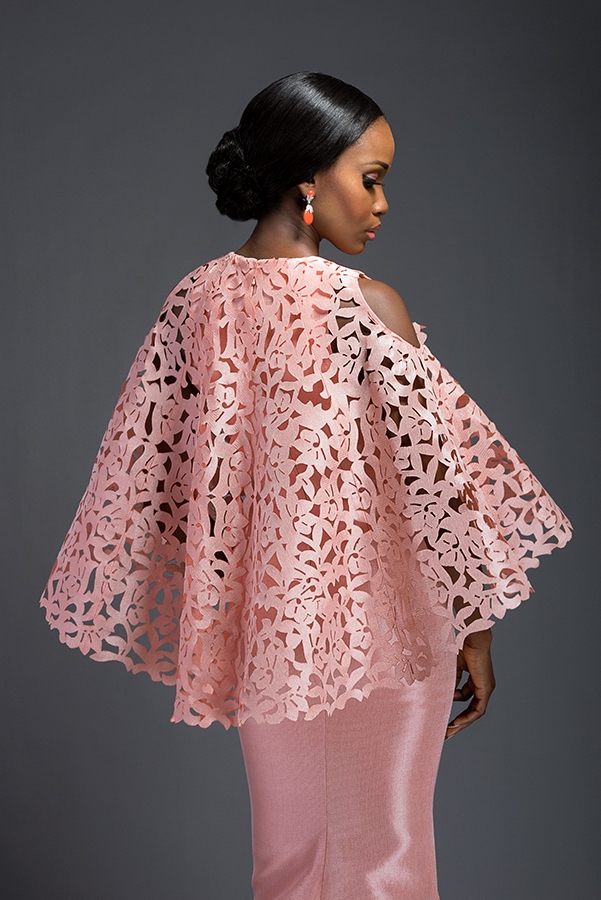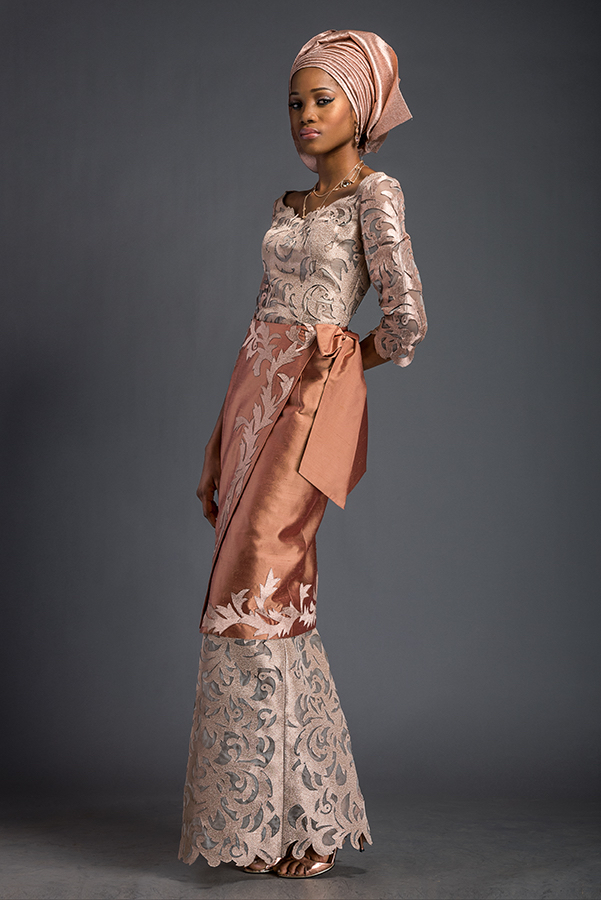 Mena – Apricot and platinum "Double wrapper" style ensemble.
Patterned with Komole Kandids Nectar motif.
Double Wrapper is finished with signature Deola "cadeaux bow-back".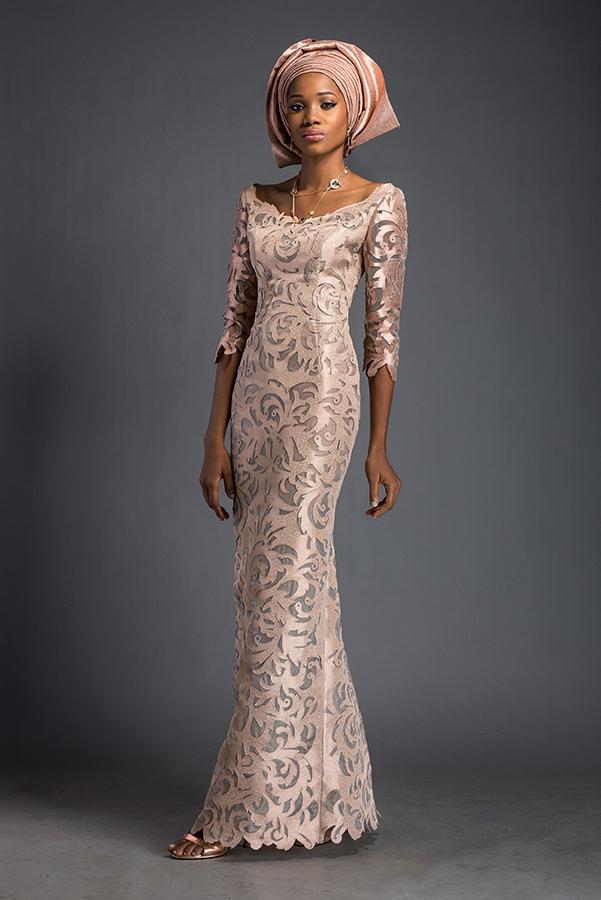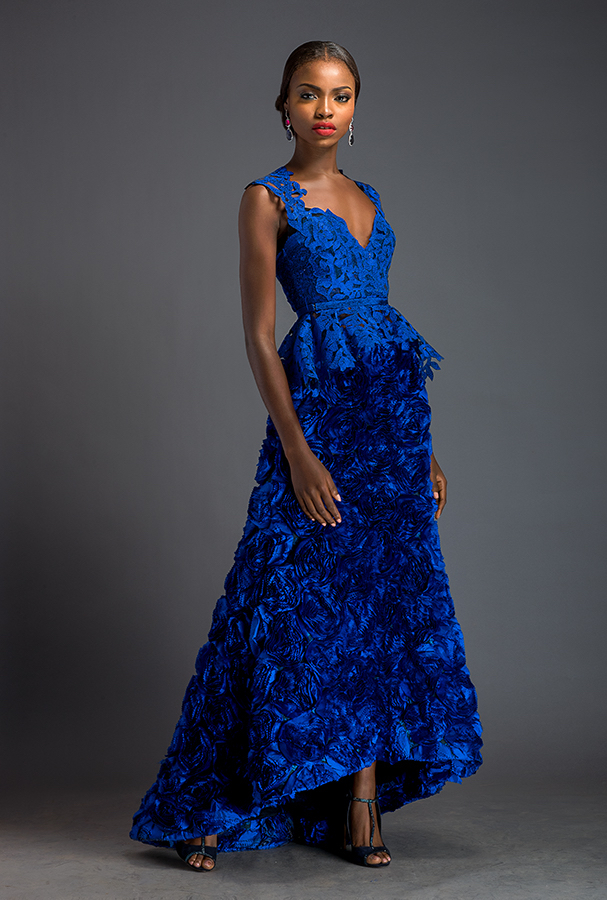 Anastasia – Ultramarine blouson and floor length 'Roses' skirt.
Blouson is patterned with Komole Kandids Azalea motif.