How creative can you get with food? Show us!
By Kemi Mobuse - Wednesday, April 20, 2016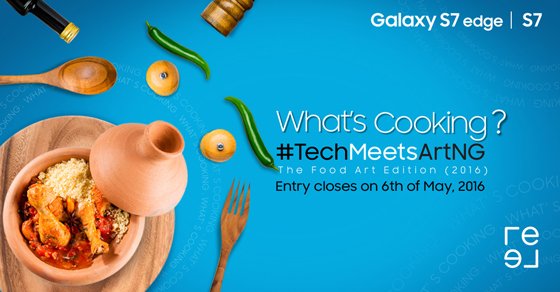 Do you realize

Food is not just a bunch of elements 2 be eaten? How well can u be creative with food? Can you just imagine a fusion of Food and Art? Ever seen a meal presented so artistically it looked like a painting? Catch a glimpse at the #TechMeetsArtNG #FoodArtNG competition. The Food industry is really gonna undergo a huge transformation!
And for all the foodies out there; this is certainly a great opportunity for you to wow the top chefs of Nigeria. Have you heard of #TechMeetsArtNG ?
This beautiful opportunity is brought to you courtesy of @samsungmobileng . They are giving you a chance to bring out the inner Nathan Wyburn in you, so get ready to experience d power of Galaxy S7 edge & S7! So, Join the league and participate in the #TechMeetsArtNG contest.
Entry closes on Friday, 6th of May, 2016. Terms and conditions apply.